Sunday 4/16/23: 6pm from Boston or Midnight from the Starting Line
The Boston Midnight Marathon Bike Ride is a leaderless show-and-go bicycling tradition along the Famous Boston Marathon Route the night before the annual running race. We return for 2023 for the 15th Annual ride, but with a few key important changes. Here's everything you need to know:
For this year's ride:
The date is Sunday, April 16,  2023, the night before this year's Boston Marathon date (April 17,  2023).
There will be no single start time, so join a wave of riders, or participate as your schedule allows: to accommodate the lack of a single wave of riders, we encourage riders to begin their journey on the marathon route Sunday evening between 6pm-12am midnight as your schedule allows. The magic of this tradition comes from the community of thousands of riders on the route all evening and night riding in both directions, especially with the 6pm and 12am wave.
The ride will be 100% self-guided and self-supported. Unlike previous years, there will be no organized truck 'n train option with bike delivery, and the MBTA will be enforcing their NO BIKES policy on Monday the 11th. Instead, we invite you to participate in the tradition by riding out-and-back or carpooling with a friend to the start.
We remind you of the half out and back option: For those of you who want to participate in a 26-mile loop out to the Marathon's halfway point instead of biking the full 52 miles roundtrip, just start in Boston and ride out to Wellesley and back!
Read on for some background on the ride or skip down to "THE RIDE" for route info, and tips on how to participate.
"Hey guys, wouldn't it be awesome if we rode bikes along the Boston Marathon route the night before? At midnight?"
In 2009, Boston University student Greg Hum proposed this simple yet inexplicably awesome idea for a group bike ride. And thus, the Boston Midnight Marathon Bike Ride was born. From a simple Facebook event for Greg and his friends, word spread, and about 50 people gathered at South Station to take the commuter rail out to the starting line. Many agreed to make it an annual tradition, and the following year 70 people showed up.
Starting with the 3rd ride, Greg teamed up with the Boston Society of Shenanigans, an underground cohort of urban adventurers and pranksters, to spread the idea and keep people on the same page. Today, well over 1,000 people take the train or get rides to the starting point to bike the route under the stars, from Southborough to Back Bay.
"…being on the race-ready marathon course was like sneaking into Fenway Park and running the bases."

– Todd Balf, Bicycling Magazine
The Midnight Marathon is a group bike ride – not a race, and not even a marathon. In fact, at around 30 miles, it's a few miles longer than a marathon! But don't worry – it's mostly downhill.
Most of us start from the Southborough Station parking lot and follow the Boston Marathon route all the way back to town.
Route A: At 30.6 miles, this is the traditional Midnight Marathon route- including a large, steep hill on Cedar St shortly after starting. This route brings you across the Boston Marathon Start Line in Hopkinton. Police ask that you do not stop at the Start Line for photos nor to wait for people. Please pedal straight through and on according to the Route A Map.
Route B – This shorter route at 27.3 miles also benefits from avoiding the Cedar St hill. This is the route we did in 2014 – joining the main Boston Marathon route at the 4 mile mark. The first 4 miles are unsupported. If you're starting late, looking to get downtown early, or just want to avoid that awful hill, check out the Route B Map.
Riders get to Southborough by a variety of means. Unlike in previous years, we will not be utilizing moving trucks or trains for 2021, and we encourage riders to arrange a dropoff at Southborough station to begin their ride. The 2021 ride is unsupported. There is no official ride registration, ride leaders, road support, or any official start or finish time. You and your friends are responsible for your own safety.
The ride is unsupported and show-and-go, meaning there is no official ride registration, ride leaders, road support, nor any official start or finish time, and most importantly, that you and your friends are responsible for your own safety.
You can ride the route with friends any time the roads are open to vehicles and you follow the rules of the road. The main wave of riders will leave Southborough station around 11:30pm and arrive at the starting line by midnight, but many people organize their own carpools and out-and-back rides before this.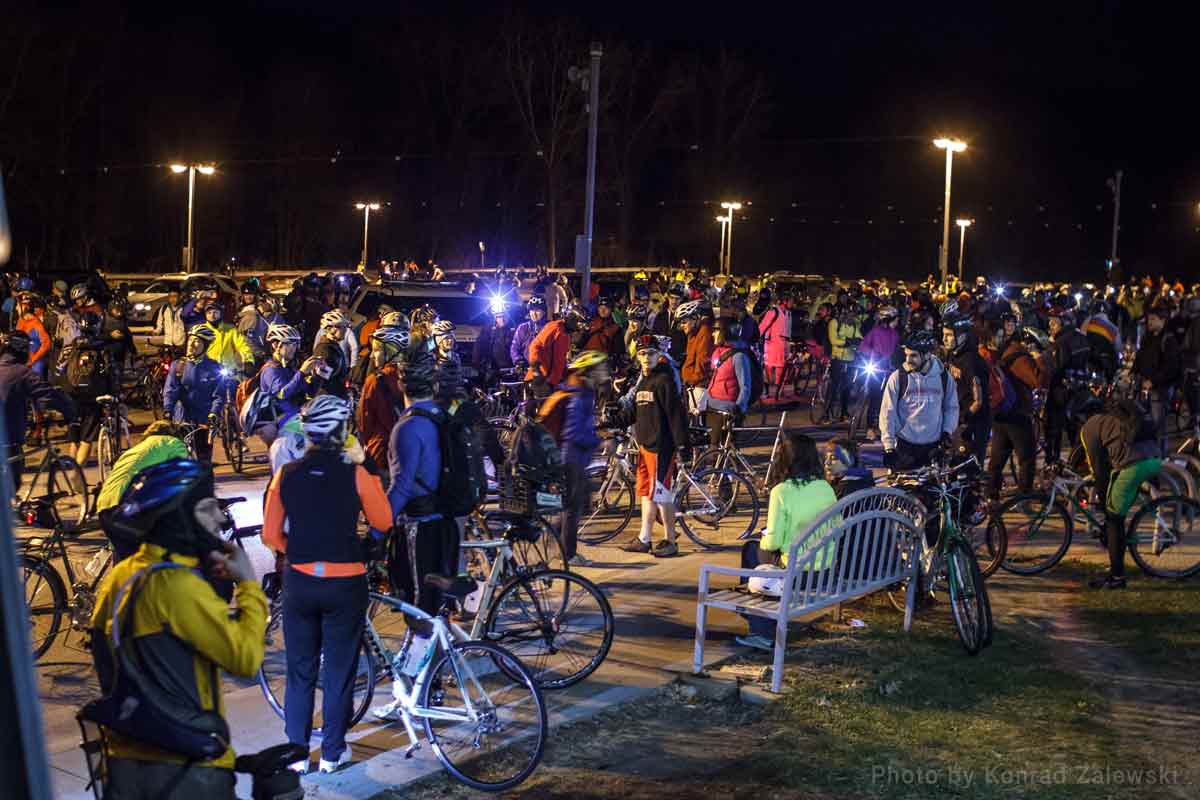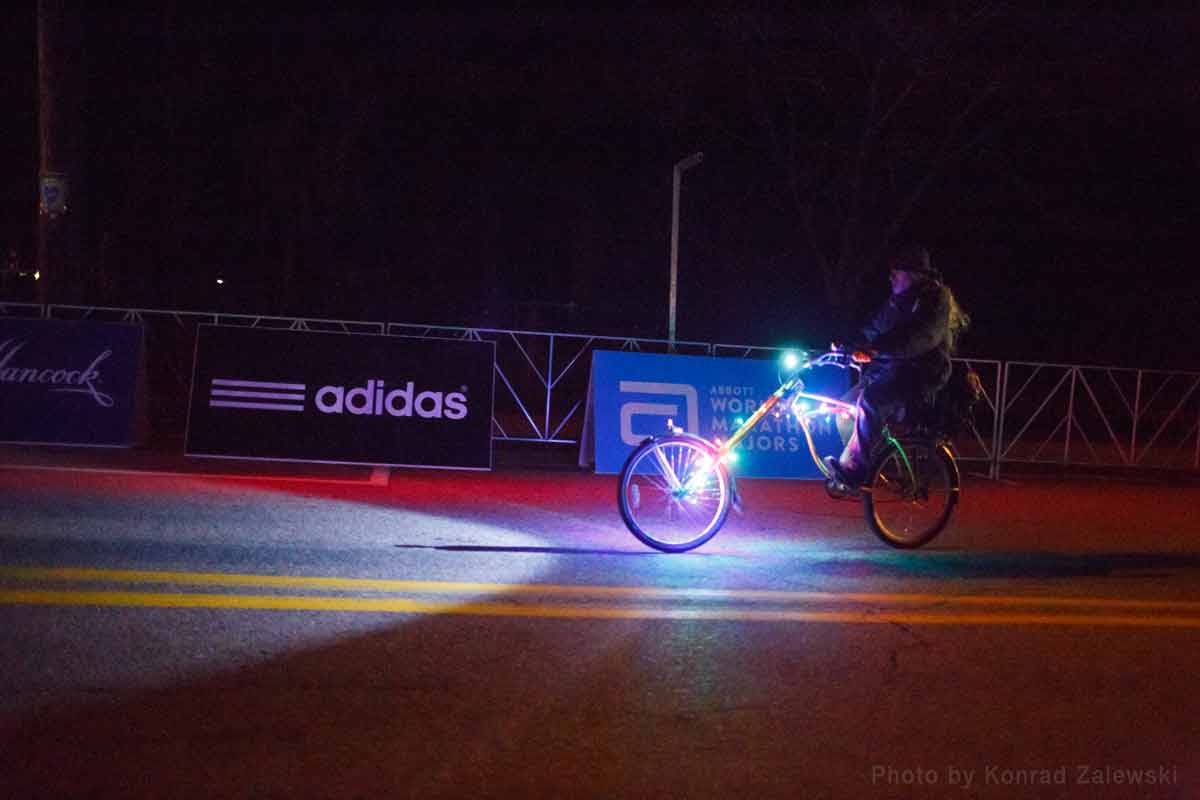 Sunday 4/17/22: 4pm from Boston or Midnight from the Starting Line
There are several ways to participate in the ride this year but there is no "truck 'n train" bike delivery or chartered train option. This year we invite you to explore the marathon route completely self-supported!
In other words, how you get yourself and your bike (or rental bike) out to the start is up to you!
Options for getting to the start:
Get someone to give you and your friends a ride!
Find a ride through the Midnight Marathon community Facebook group
Call a taxi or ride-hailing service
Drive a car out, drop off and lock your bike in Southborough, and take the Commuter train back out to do the ride

Do not leave your car in the Southborough MBTA lot. Expect to be ticketed or towed if you are parked after 2 AM and earlier than 30 minutes before the first morning train.

Bike there! (the "Full out-and-back" option)
Skip the start (the "Half out-and-back" option)
Bikes are sometimes not allowed on the commuter rail during Marathon Weekend, or become disallowed after too many try to board. So for the comfort of all commuters and for the sake of those who need to take their bikes to get home, please do not bring yours.
Option 1:
Multi-modal: Drive there, bike back
Start-to-finish(26.2 miles):Convince a friend or family member to give you a ride, or post in our Midnight Marathon Community Group to seek & organize group transportation options, including car pools and shared taxis.
Option 2:
Full/Half Out-And Back
Full out-and-back (52mi roundtrip) If you're in good shape, ride the marathon route in reverse from the Finish line, then pull a U-ie at the starting line and ride back into Boston.
Half out-and-back (26mi roundtrip): Begin at the finish line, ride out to Wellesley mile marker 13 (the halfway point) then back into Boston as the others reach you for a marathon-distance adventure.
Want to help keep the community tradition alive? There are two ways to stay involved this year:
Give someone and their bike a lift: if you have a car and bike rack and feel comfortable, offer others a lift to the starting line via our Facebook community group.
Pick up a volunteer turn-marshal shift: We are in need of volunteers for one key role: warning riders of upcoming turns and several hazardous train track crossings along the route, and offering flat tire support for those who need it.
So you don't get lost, stranded, or scared:
Bring

a print copy of the cue sheet and map

, even if you are bringing your phone with the GPS route. It's important to have an analogue backup in case all else fails.

A spare tube, a portable pump, and/or a patch kit, even if you don't know how to use them; it's usually pretty easy to find someone with know-how to help. Be prepared.

A fully charged cell phone (even though there are areas where you probably won't have a signal) with maps if you have a smartphone. It may come in handy to call a friend or a cab for a lift if you do get stranded, or in case of emergency.
So you don't get hungry and tired:
Pack at LEAST 1-2 bottles of water AND some food/snacks. 26 miles is a workout on a bike, and the only convenience stores open before you reach the city are ⅓ of the way into the route. Remember, there are no bathrooms set up for the ride along the way. Plan accordingly.
For safety:
Bike lights with fresh batteries. Much of the ride is pitch black- you'll need front AND rear lights to not only see where you're going, but so others can see you to prevent accidents. Don't believe us?

Take it from a bike lawyer.

Wear a helmet!
For the weather:
Something warm for the colder temperatures (it tends to be colder outside the city… and at night). Layers you can take off or put on are key.

Bring something to keep your hands, feet, and head warm. bring an extra pair of wool socks, warm and waterproof gloves, and earmuffs or some kind of scarf or ski mask.

Something waterproof for your body, legs, AND feet in case it rains (and it might rain like it did unexpectedly in 2012)

Bike tights or shorts. Or any tight non-cotton underwear. Trust us, riding 2-3 hours on a bike with chafing is no fun, and tights or bike shorts WILL help.
PLEASE PLEASE PLEASE be extra careful at the train tracks or your wheels will slip (the metal is surprisingly slick) or get stuck in them, catapulting you into the pavement. It's more common than you think.  

There are a total of three track crossings on the route (two in Framingham, and one in Cleveland Circle, all marked on our online route) and every year countless people cross them at a bad angle and sometimes get hurt. You must either walk your bike across the tracks or slow down and bike across perpendicular to the tracks.
In previous years we offered a rest stop in the Wellesley College area where you could refill your water bottle, partake in an impromptu dance party, and eat snacks (subject to how hungry the previous attendees were). However, this is not guaranteed to happen this year so please come prepared with plenty of water and snacks!
Also, HAVE FUN. Midnight Marathon is all about being together on bikes with friends and strangers alike! It will be AWESOME.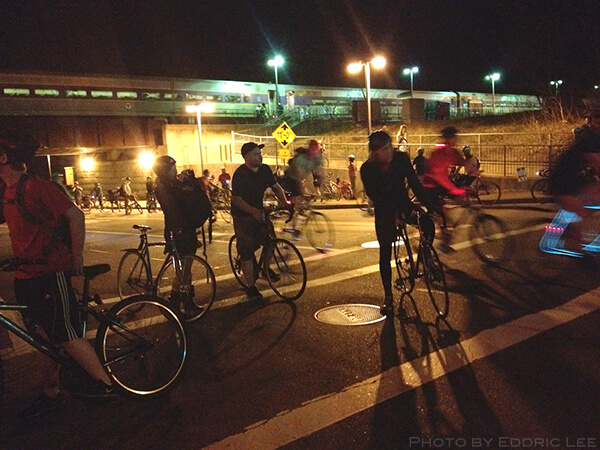 At The Finish Line
It appears the Finish Line will be open this year. Bike through, take a victory photo, high-five friends or strangers, but do so VERY QUIETLY. There are apartment and hotel rooms with very poor sound insulation along the finish line where marathon athletes and their families are trying to get some sleep before an early start to the actual marathon. Please be considerate and turn down the music and the cheering while turning up your smiles and high-fives.
Have Breakfast
In previous years we coordinated with a charitable pancake breakfast to benefit The Tyler Foundation. Unfortunately, due to a confluence of circumstances, we won't be able to offer an organized breakfast this year. However, there are a handful of options to refuel in the middle of the night, including pancakes at IHOP in Cambridge (best bet) or the South Street Diner (limited space).
Getting Home
Bring a heavy duty lock in case you need to leave your bike unattended for a bit. The MBTA shuts down at 1am and reopens at 5:30am, albeit with bike restrictions.
If you can't bike or drive home, we recommend getting breakfast then waiting for the MBTA to re-open; you won't be the only one. 
If you have a folding bike you can easily get a cab or use public transit. You may also try your luck breaking your bike down to fit in a large car by using a ride-share service such as Lyft, or by calling one of these cab companies:
Ashland: 508-745-3802      Framingham: 508-309-7767
Natick: 508-653-2300      Wellesley: 781-235-2999
Newton: 617-332-8294      Brighton: 617-536-5000
Greater Boston (MetroCab): 617-782-5500